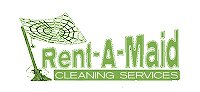 Commercial
Residential
Service Area
Service Rates
Home
Give the gift of cleaning
Gift certificates are available


Rent-A-Maide
Cleaning services in Augusta, Maine
Are you in a cleaning bind, not enough time in the day and not enough hands to go along with the chore? Give us a call for your cleaning needs, we will be there for you or your business.

Get in touch with Rent-A-Maide if you would like your cleaning job done right the first time. From light dusting and general touch ups to heavy duty grease and grime cutting we are your best choice. Our services can be utilized for dusting, vaccuming, scrubbing, shampooing, washing, polishing and we are well versed in the cleaning of your computer systems, inside and out.

We have a wide service area for your convenience. We also will work after hours if needed.
Rent-A-Maide is family owned and operated specializing in customer service. Our goal is your satisfaction. We will go that little extra, to meet your cleaning needs.
Free estimates
Telephone: (207)445-2124
Fax: (207)445-2124
E-mail: Codi1955@aol.com